Why Get Certified as a Hypnotist:
You can transform your life while helping others transform theirs
Increase your income: $100K+/year earning potential
Change Careers: Rhodes Institute courses give you everything you need to open shop
Stand out from the crowd: Perfect tool for coaches, therapists, and alternative healers to add to an existing business. You can attract more clients, differentiate yourself from others in your field, and offer a new service to existing clients.
Work from Anywhere: either home office, or through Zoom hypnosis sessions
Be your own boss: When you open your own practice, you make your own schedule.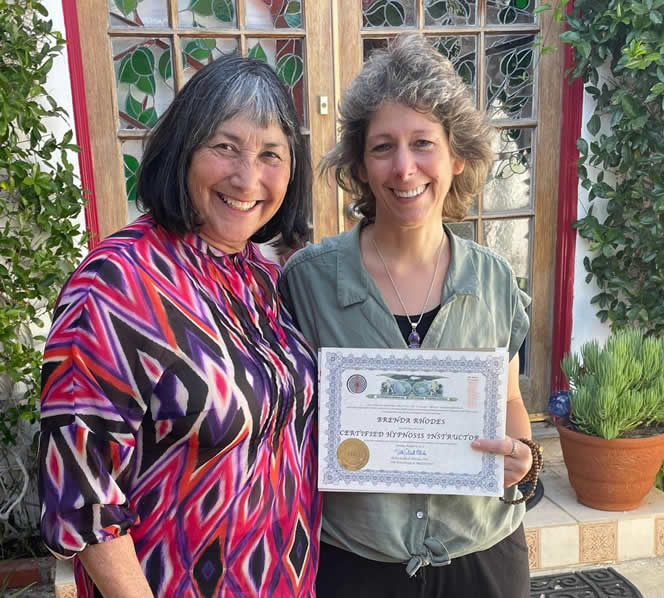 Now you can earn your 50 hour Hypnosis Certification, in person, hands on, with a step-by-step program that allows you to embrace your natural gifts to help others. Whether you want to start a new fulfilling career, add to your professional toolbox, or become a hypnosis practitioner on the side, you will gain life tools that will benefit you forever! Many use this training for personal improvement. Some use it to switch their career. During this training, you will LEARN HOW TO USE HYPNOSIS to help yourself and others. Every student benefits from learning how to take control of their mind and thoughts.
This training is for therapists, counselors, and energy workers who want to learn hypnosis to help their clients. It's also for doctors, students, teachers, and people from all walks of life who want to learn how to harness the power of their mind. There are no prerequisites, (other than an open mind and interest in learning). From increasing confidence to overcoming doubts, hypnosis graduates share Brenda Rhodes training which goes way beyond the weekend basic hypnosis training.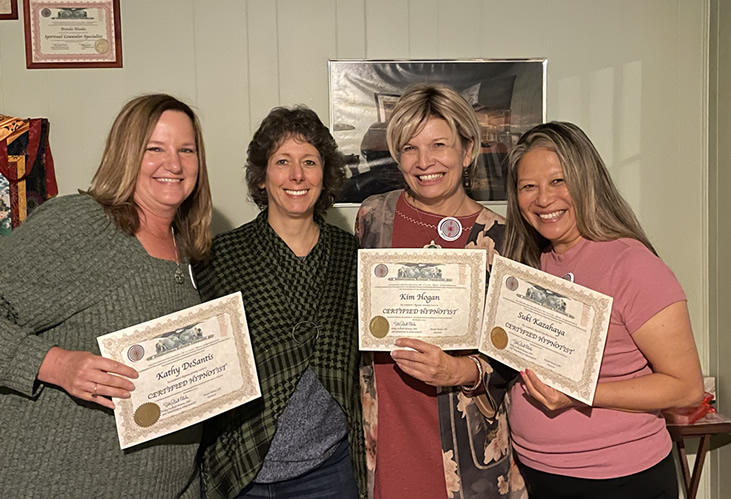 What you will learn in each 50-hour certification course:
Fun, Easy to Learn Hands-on Training
Dominant Sense Work
Magnetic Mind Toning and Entrainment
Harnessing The Power of Language
 Hypnotic Induction Techniques
Power Learning
Higher Self Hypnosis
Hypnosis for all ages for happiness, success, great relationships, sports performance sales, self-esteem and to eliminate pain, habits, fears, sadness & life traps.
How to create CUSTOM SUGGESTIONS that are MORE EFFECTIVE than any script
Experience being both the hypnotist and the client
How to effectively hypnotize an analytical     person
Learn how to avoid the common mistakes most hypnotists make. 
The Benefits of Age Regression…and so much more!
Imagine helping yourself and others with;
Quitting Smoking
Weight Loss
Managing Stress
Reducing/Eliminating Pain
Improve Sports Performance
Get rid of Test Anxiety
Feeling Highly Confident
Stress Release
Eliminating Bad Habits
Pain Management
Enhancing Sports Performance
Eliminating Fears
Memory Enhancement
Public Speaking
Test Anxiety
And more…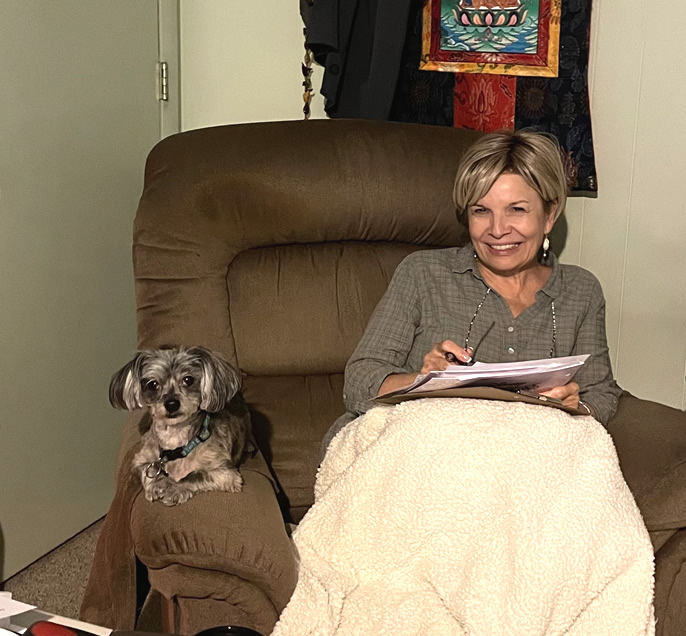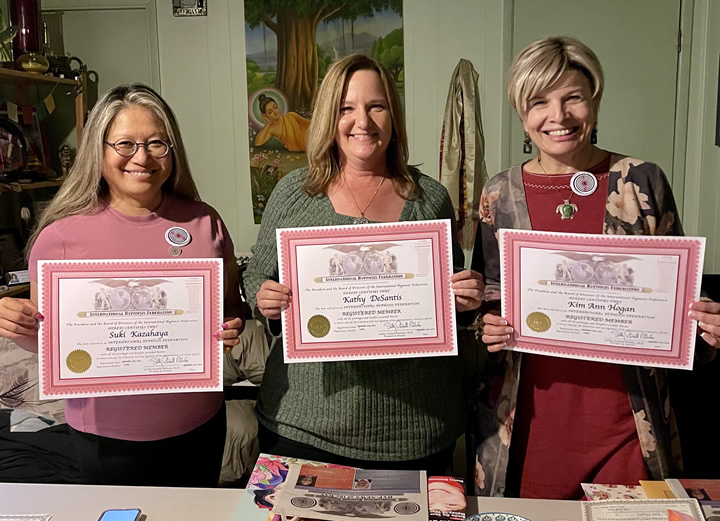 What you will receive from this course:
A beautiful certificate as a Hypnotist, Master Hypnotist, Hypnotherapist… (depending on your class)
Course Book
Study Guide
Hands-on experimenting and practice
Self-improvement with education, communication, support, and promotion
Learn easy cohesive ways for successful sessions with every client
Knowledge how to make money using what you have learned
And (if you are not already an IHF member) you'll also receive a gift of:
A first-year membership in the International Hypnosis Federation  ($95.00 value)
A subscription to the "HYP NEWS" IHF Newspaper
A handsome membership certificate (suitable for framing)
Terrific discounts to attend our annual "It's All About YOU, Retreat" for mind, body, spirit, fun and money. The event is held the first week of March in San Pedro, California.
You can Experience all this for yourself and soar while helping others!
Sign up NOW and be a respected Certified Hypnotist (CH)
Date: Sept 22-24 & Sept 30- Oct 1, 2023
Registration closes and tuition is due: Sept. 18, 2023.
Hours: 9-5 plus 14 hours of home study. Location: TBA (Lehigh County Area)
What to bring:
Notebook
Pen and/or highlighter
Food and drink with lid
Open mind
Tuition, Certification and Materials only $1997
Register Now! Call 610.737.9560
Additional Certifications: Master Hypnotists (CMH), Hypnotherapist(CHT) and Past Life Regressionist. You may also qualify to join one of our International Hypnosis Federation Specialist divisions and receive an additional Certificate in the IHF Researcher, Medical/Dental, Coaching, Performer, or Spiritual Counseling Division. These are available for an additional one-time only fee of $150 and approval of the IHF board.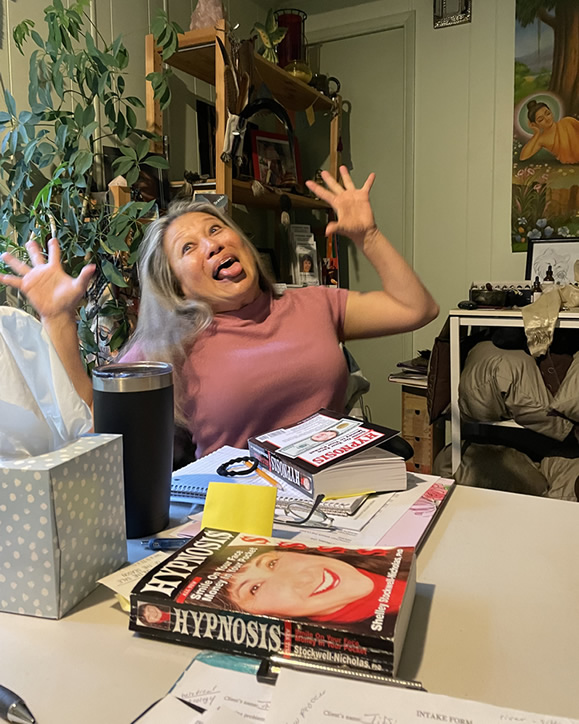 Hypnosis Certification Training FAQ's
After the Hypnosis Training will I be able to help others with hypnosis immediately?
Yes! During your hypnosis training course, you'll have many opportunities to practice the skills and techniques you learn. You'll practice as the hypnotist, and as the client.
Will I be licensed as a Hypnotist?
Currently, there is no licensing of hypnotists in the United States, however, there are specific state regulations that hypnotists must adhere to. The International Hypnosis Federation (IHF) maintains the highest standards of Ethics. IHF is dedicated to remaining an organization of the highest caliber and requires that all Certified Hypnotists abide by the IHF Code of Ethics.
Do I need insurance to practice as a hypnotist?
It isn't required for hypnotists to have insurance; it is personal choice. During your hypnosis training, you will receive the information for hypnosis insurance.
(Picture to left is Suki enjoying class)
Is this class only for personal development?
This is the approved professional IHF Hypnosis Certification Training Course. You will learn how to help others with hypnosis, how to teach them self-hypnosis, and even how to lead a group self-hypnosis class. Many people take the Hypnosis Certification Training Course for their personal development – and frequently help others with their new knowledge. Because you practice hypnosis throughout the training, you get the opportunity to work on personal issues – as well as the basics like Stress Management. During the course, students have reported that they sleep better, have more motivation, and even release fears that have been holding them back. Just some of the many benefits of taking this training.
Do I have to take an exam?
If you choose to become a Certified Hypnotist you are required to take the IHF Certification Exam. The training you receive is geared so that you will secede. The exam will be given at the end of the course.
Are there more hypnosis training opportunities after class is over?
As your instructor, I encourage you to participate in as many training opportunities as you can. You can specialize and receive IHF Certifications in Master Hypnotist, Advanced Hypnotherapist, Sports Hypnosis, Pediatric Hypnosis, Stage Hypnosis, Fertility, Past Life Regressions, and more. Exciting conventions include: "It's All About You, Retreat" for mind, body, spirit, fun and money (San Pedro, CA), Hypnothoughts Live (Las Vegas), National Guild of Hypnotists (Marlborough, MA), International Association of Counselors & Therapists (Orlando, FL), and many other opportunities.
After I finish the Hypnosis Training will I be able to use hypnosis to make my mother cluck like a chicken?
No, hypnosis only works on people who are open and willing, we cannot make anyone do anything they don't want to do.
I have more questions? Can I talk to you?
Yes! Call to schedule a phone appointment at
610.737.9560
Will I be a Hypnotherapist once I receive this certification?
No! Each level builds upon the last. You must put 50 hours of training into be a hypnotist, an additional 50 hours (total of 100 hours) to receive your Master hypnotist, and another 50 hours (total of 150 hours) to receive your Hypnotherapist certification.
I've taken a weekend course and was given a hypnosis certification. Can I receive my Master's certification or do I have to start at the hypnosis certification level?
Most likely you will need to take the hypnosis certification. There is so much more information than a weekend course can give you. However, it depends on your level of understanding, skill, how much practice and experience you have.
Isn't it time for happiness, to help others and create the life you deserve! 
Want to know more about your instructor Brenda Rhodes, CHI?
"Brenda Rhodes is a gifted teacher, professional coach, and hypnotherapist. You're lucky indeed if you are one of her students. I highly recommend her" Shelley Stockwell-Nicholas, President of the International Hypnosis Federation